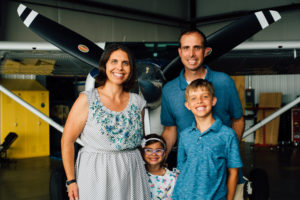 The Garrigans are currently working at MAG Headquarters at Burlington, North Carolina. Sean is a graduate of the Aviation Maintenance Technology program at Miramar College in San Diego, and attended San Diego Christian College. He is an FAA certified flight instructor, an instrument rated commercial pilot, and a certified Airframe & Powerplant (A&P) mechanic. Carmen received her B.A. in Spanish from Pepperdine University, and went on to Princeton Theological Seminary for her Masters in Divinity. She is an ordained Presbyterian pastor.
Sean has been a pilot for 20 years and has been instructing off and on for 17 years. He has an extensive background in aerospace advanced composites. Sean received God's calling to be involved with the ministry of missionary aviation in high school and pursued it in college majoring in missionary flight and maintenance technologies. Carmen has served the church in a variety of capacities for the past 15 years especially in the areas of youth ministry and missions.
Sean has been working to train, equip, maintain, and support MAG's full-time staff of professional pilots, and to prepare, train, and mentor pilot/mechanics apprentices for Kingdom work through the service of aviation. Carmen has been working to encouraging the apprentice families during their time in Burlington and mobilizing the local church to fulfill the Great Commission. Carmen has also stepped into new roles at MAG working with Human Resources and coordinating communications with our base in Honduras.
The Lord has blessed the Garrigans with two wonderful children, Nathan and Lilly.